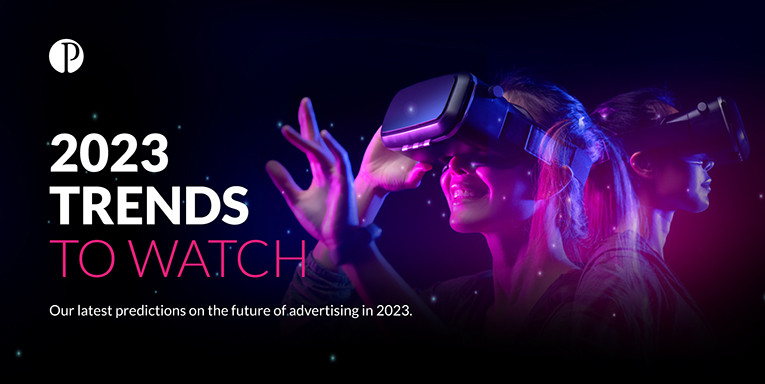 Our Latest Predictions: The Future of Advertising in 2023
After years of watching advertising trends and social media platforms evolve, we're taking a look at what we can expect for the year 2023. Even though the 2020s have just begun, there have already been some significant changes that have happened in just the last couple years.  These changes reflect our culture's changing interests as well as technological innovations that help advertisers communicate with consumers more effectively than ever before.
Here are some of our predictions on how advertising will change over the next year:
The Metaverse
So, what is the metaverse?
It's a term coined by author Neal Stephenson in his 1992 novel Snow Crash. The metaverse is an interconnected virtual reality that allows users to interact with each other and create content within it. It's essentially a space where you can enter and experience new worlds, which could be anything from games to movies to social media apps. The possibilities are endless!
In 2023, the metaverse will be the next big thing in advertising. It's an entirely new digital platform that will change the way we consume content, but it also presents brands with marketing opportunities they haven't had before. With its fast-growing user base, the metaverse offers companies a chance to reach customers directly through interactive and immersive ad experiences. It will allow users to try their favorite brand products within their game or social media feed—this would make it easier for consumers who are reluctant or hesitant about buying something online without having tried it first (which happens more often than you might think). And since these ads are highly personalized based on what users like and how they respond to certain things online, they're more likely to resonate with them.
Advertising Beyond Social Media
While social media is a vital piece to include in your marketing strategy, to maximize results, you should consider combining it with several other marketing channels. We recommend the following mediums and platforms to our clients:
OTT Streaming services 

Online dating sites 

Mobile apps

 

News websites and blogs 

Magazine ads (print) 

Billboards 
And so much more! 
Consumers are in Control
We've been in the "Big Ad-Spend Era" for decades, and it has come to an end. The era was based on the idea that larger companies could allocate robust amounts of money through traditional broadcast mediums such as television and radio to get their message out. Consumers were passive and would just watch ads, so brands could spend as much money as they wanted.
But this isn't true anymore—consumers are no longer passive! They now have a voice and can make their voices heard through social media (e.g., Facebook). If a company does something that consumers don't like or agree with, they will let them know on social media or by writing negative reviews on Google. As a result, companies must now build relationships with customers rather than just trying to push products onto them through paid advertising alone.
Niche Content and Influencers
Niche content and influencers continue to exude a great deal of impact in the digital space. In fact, they are two key trends that could help you reach audiences that would otherwise be out of reach.
Here's how: Niche Content. The key to success in 2023 is going after a specific audience with relevant content that speaks directly to their needs and interests. With so much information available online, consumers will gravitate towards brands that give them exactly what they want— not just what you think they should want. Influencers can play an important role here by creating engaging content around topics they are passionate about and helping you build relationships with those audiences before they even know your brand exists!
Influencer Marketing helps brands build trust, loyalty & community because it gives consumers a voice within your brand ecosystem—and people love having their voices heard!
Voice Search, Chatbots and Artificial Intelligence (AI)
Voice search, chatbots, and artificial intelligence are the next big things in marketing. Voice search is already a thing but it's about to get much more popular. It's hard to remember that before Siri, we used to type out long sentences on our phones. Now we just say "Hey Siri" or "OK Google" and our phone will listen for commands like "I want pizza delivered" or "Play my favorite song" or even questions like "Who is the Prime Minister of Australia?" This change has been so swift that people have started using voice assistants even when they have access to keyboards (like when filling out forms online).
The benefits of using voice assistants are significant: they don't make mistakes because they're not typing anything; they can easily interact with other apps like Spotify; and most importantly, there's no barrier between customer service reps and customers—customers don't need any training at all! This makes it easier for companies like Apple (with Siri), Amazon (Alexa) and Google (Google Home) who make these devices to capture data about their users' preferences which can then be used in advertising campaigns later on down the road.
2023 is going to be a big year for advertising trends, especially as technology and social media platforms continue to evolve. 
The marketing world is going to be a much different place in 2023, and we're excited to see what the future holds! We're confident that if you pay attention to these trends and adjust accordingly, they will help your company succeed. Don't get behind the times. Let our experts help evolve your marketing plan for 2023.